Can England Win Euro 2016?
Posted On May 31, 2016
As Roy Hodgson today submits his final squad for France, Tonybet.com has gone out on a limb and decided to offer an incredible 50/1 for England to win Euro 2016 to mark the 50 years it has been since the Three Lions won a major championship! The rest of the market is in the region of 8/1!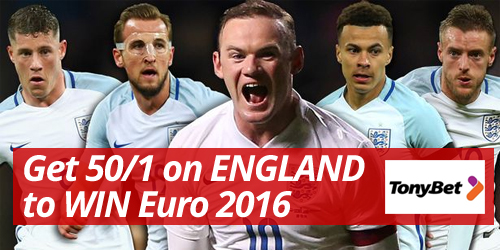 Tonybet.com spokesman Warren Lush said: "In 1996, Baddiel, Skinner and The Lightning Seeds sang about the Three Lions having 30 years of hurt that never stopped them dreaming. What about 50 years of hurt? We think it won't end and is still a dream and it is 50/1 that Roy Hodgson's squad come back with the trophy as national heroes. Everybody else is offering in region of 8/1 and we only expect those odds to get shorter!"
Back in 1966, when England's national team won the FIFA World Cup, the squad had three Liverpool players in it – Gerry Byrne, Ian Callaghan, and Roger Hunt. The latter went on to become one of the top goal scorers of the tournament. The Reds had a fair impact on the major success that England enjoyed 50 years ago – could the lads playing now repeat that?
It's tough to say how big of an impact will the players from Klopp's squad who are going to represent England have on the outcome of this year's games. Milner's experience is definitely going to come in handy, for example, and Lallana did come through with important goals quite a few times this season. The other players will surely bring something of their own to the table, especially after their new manager inspired some proper fire in their gameplay. After all, it looks like the national team will have to rely on attack a lot, which has been accentuated by the friendlies of which none ended in clean sheets for the Three Lions.
However, things are looking rather positive before the tournament and the bookies are predicting that England will be in the final right up with the highly favored Germany. TonyBet is even offering special odds of 5000/1 for England beating Germany 4:2 after extra time in the last game of the Euro 2016. That would certainly be quite a match now, wouldn't it?
Meanwhile the special 50/1 offer is available to any UK customer who enters Tonybet.com's special £1 million Euro 2016 Madness bracket. Players bet £3 and predict the top three finishers in each group then the winners of the knockout stages and final. If only a single participant correctly predicts all categories, there is a £1 million pay-out. UK customers will be automatically directed to this amazing 50/1 bet offer once they have entered. The maximum bet will be £5. The 5000/1 bet is widely available on the site at this page.
Now England winning Euro 2016 may not be a guarantee, but it certainly is a thing that the national team is perfectly capable of doing. While the competition is going to be very tough, it's not unbeatable. Also, there has been a lot of young talent popping up, not to mention the experienced veterans who have proven once again they're able to carry their team through – and after a 50 years' wait, it's about the time.