DE ROSSI LINKED
Posted On April 2, 2015
The summer transfer window is on the horizon and this is a period of time that allows players to make a switch to another club. Rumors always start floating around as the contracts of certain players reach their end.
As.Roma's Daniele de Rossi is one of the players who recently has been linked with a move outside of the Italian League, Serie A. At the age of 31, the Italian midfielder is reaching the last few stages of his career and retiring is an option that players start considering at this age.
Whilst he has been linked with Liverpool in the past, de Rossi is now being rumored to be thinking about making a move to the American League, the Major League Soccer at the end of the season. Toronto FC and Orlando City are the MLS clubs that have displayed most interest in signing the central midfielder. The website marathonbet reckons there is an even chance of him playing in the MLS next season.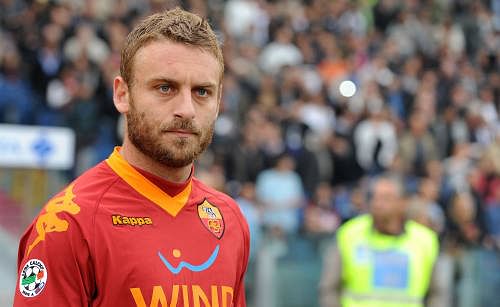 New York City FC is another club in the MLS that might be the destination of Daniele de Rossi if he ever does decide to spend the last few years of his playing career in America. The current contract of the Italian midfielder with As.Roma lasts until 2016 but it could end sooner depending if whether or not the player is planning on making a move overseas when this season reaches it's end in a few months.
Antonio di Natale is another veteran attacker in Serie A who is being backed by marathonbet to move to the MLS but these rumors are very hard to believe as both Daniele de Rossi and Antonio di Natale are icons for their respective clubs.
Antonio di Natale is 37 years old but he continues scoring goals for his club on a consistent basis and he was named as the top goal-scorer of Serie A for 2 successive season in 2010 and 2011. It really comes as no surprise to know that he is captain of Udinese and that does not seem like it's going to change anytime soon.
Daniele de Rossi on the other hand is the vice-captain of As.Roma and after having made over 350 appearances for the Italian club, he has established a genuine relationship with the fans of the club as he is constantly being cheered on.
A switch to the MLS could happen but it's very difficult to believe as both Daniele de Rossi and Antonio di Natale are more than just players for their clubs, they are leaders.